Hi guys! We are halfway through the hiatus, and I know it seems like trudging though the Sahara in the middle of summer (I've never actually done that, but I imagine it would be hard), but I hope these little Rewinds provide a small oasis of smiles and Glee-hydration!
And don't forget to vote in the Ultimate Emma Pillsbury Outfit Tournament!! We are SO CLOSE to finding a winner!

On to the show!

Making Up Emma Summer Rewind:

Preggers 1.04
McKinley High faces its biggest scandal yet: The President of the No-Touch-a-Touch-a-Touch-a-Me Club is WITH CHILD. Quinnifer Fabray is pregnant! And naturally, Finn assumes HE is the babydaddy!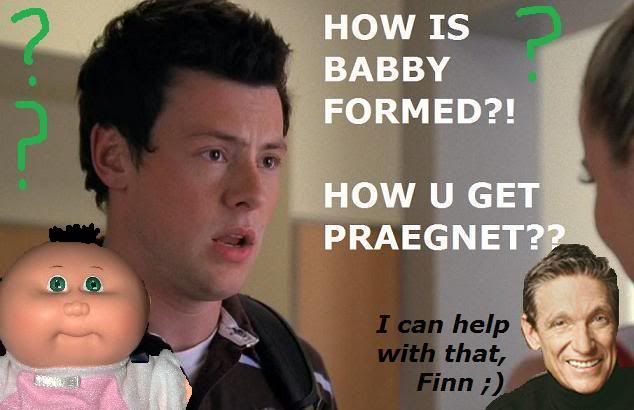 Finn and Quinn never actually…you know…you know. WINK WINK. Quinn knows this means the baby's real daddy is none other than Puck Puckerman, but Finn doesn't know this, so she makes him think the Jacuzzi impregnated her with its magical bubbly waters. Finn goes to Miss Pillsbury for advice.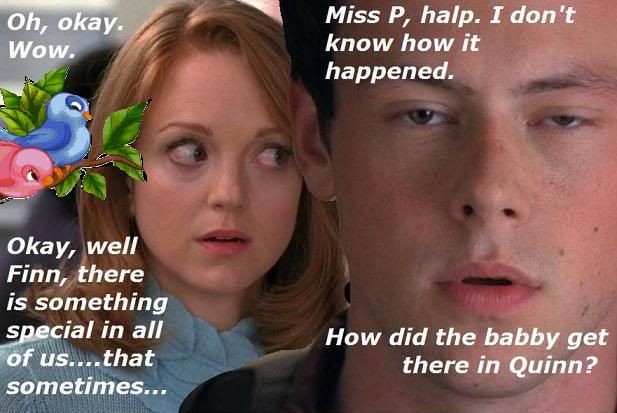 Emma is really unprepared for this Special Talk with Finn, especially with someone as "special" as Finn. And that makes her nervous, and she does what she always does when nervous, which is mega-babble.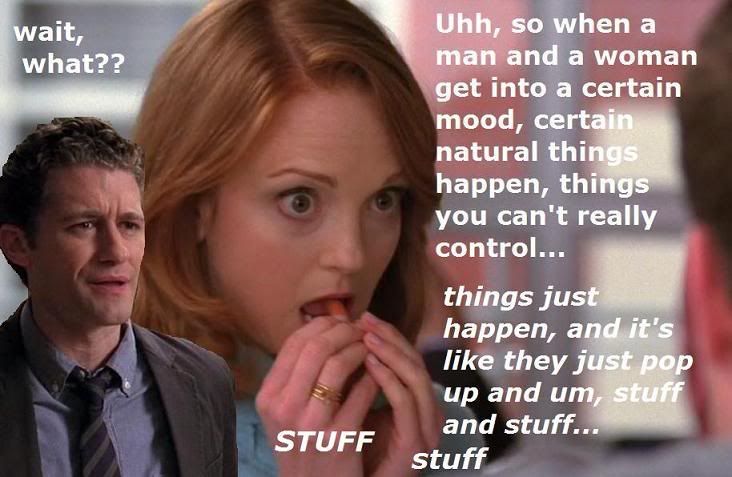 Will overhears and is confused. What is Emma saying? Doesn't she know where babies come from? Even Tater-Tot Tanaka offers his help.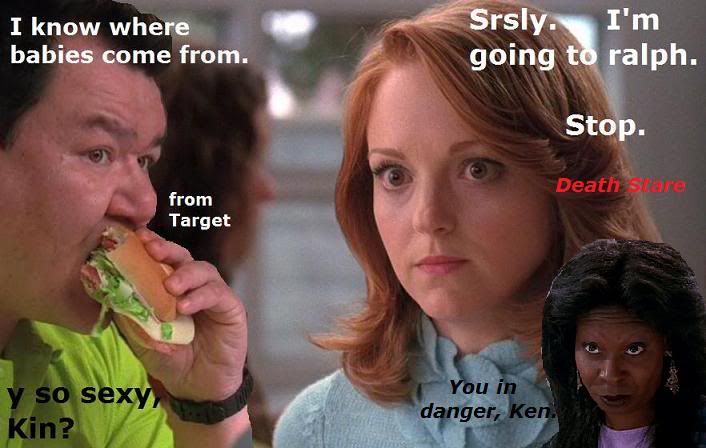 Emma continues her talk with Finn. Will grows more and more concerned. Despite her credentials, Emma appears to not be too clear on how to tell Finn what goes down (or up!) when you do the horizontal macarena…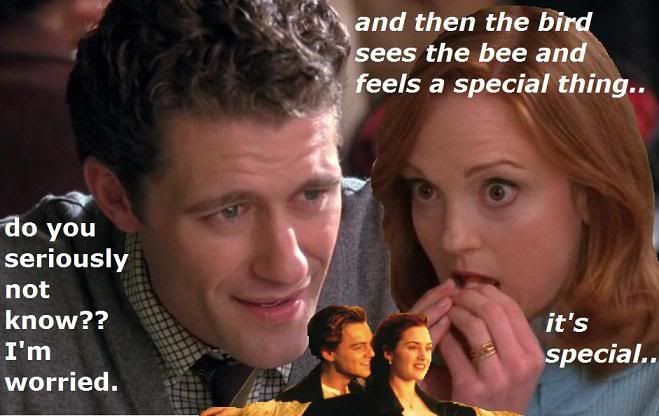 She continues shoving baby carrots into her mouth (carrots so heavy they require 2 hands to lift) and talking, probably hoping the baby carrots will help her brain. Will is concerned. Quinn (making a face that reminds me of my 3 year old niece when I take her toys) even tries to clear things up for Emma and her Birds & Bees & Leonardo DiCaprio speech, but only further confuses her.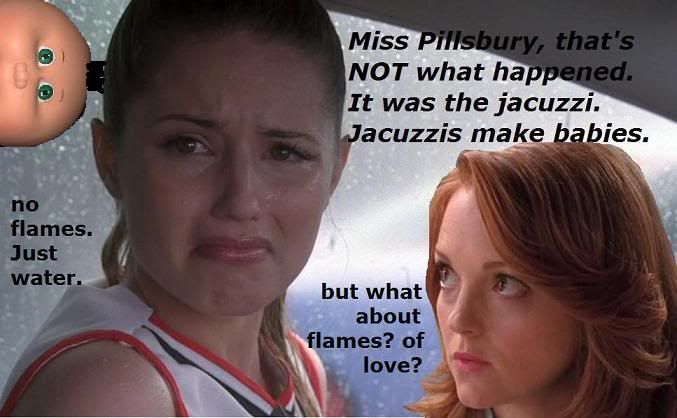 Now we need a Bill Nye moment of learnin': (to the theme song) WILL SCHUE THE SINGING GUY.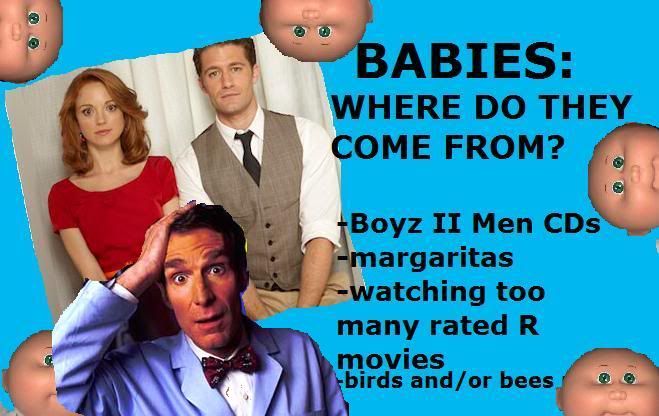 Whew! Now we ALL know!
But disaster is near! Sue Sylvester always throws a wrench in the plan! She has no problem giving The Talk to Finn with brutal honesty, while Quinn still swears it was the Sacred Fertility Jacuzzi that knocked her up.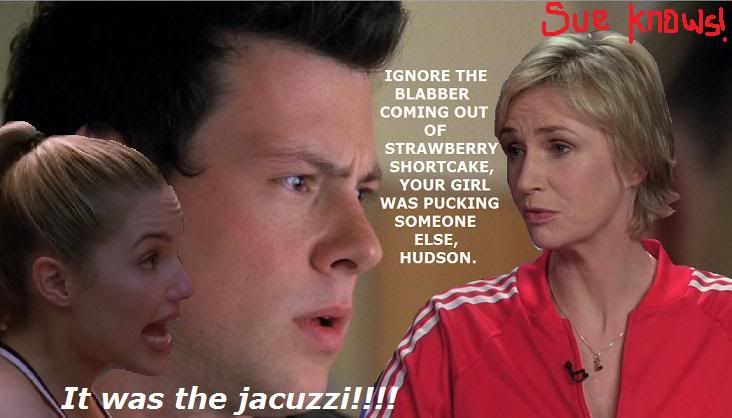 Meanwhile, back at Casa de Schuester, Will tells Terri about the baby problem of Finn and Quinn while brushing their teeth with invisible toothpaste. How come when I brush my teeth, I get a toothpaste goatee? Am I doing it wrong?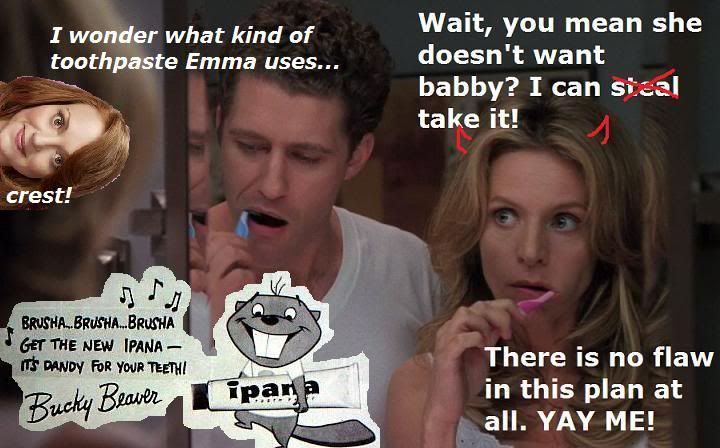 Terri hatches a plan! She'll take Quinn's baby and replace the pillow with it when she gives birth on the same day as Quinn, who will take the pillow and raise it and she'll raise the baby! Will will never know, because he can't even figure out her belly is really cotton! The plan is so genius it's a mystery to everyone why she's not yet a manager at Sheets N Things!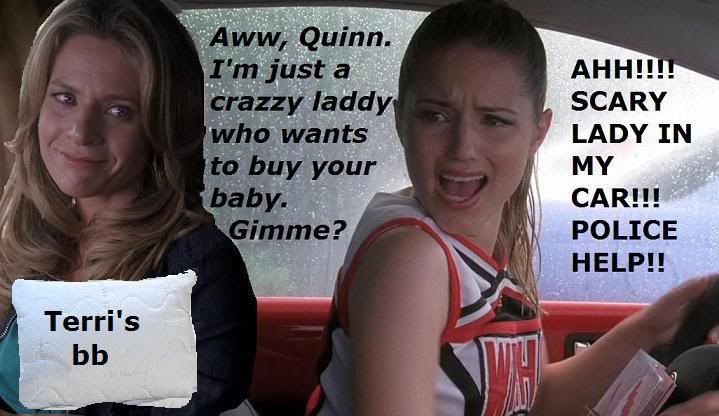 Terri used to be in a gang as a teen, where she learned to break into cars and wait patiently for the driver to return so she could ask insane questions. It was a Creepy Gang.
Rachel Berreh hears about the problems everyone is having figuring out where babies come from, and she forces everyone to listen to her offers her help through the power of music.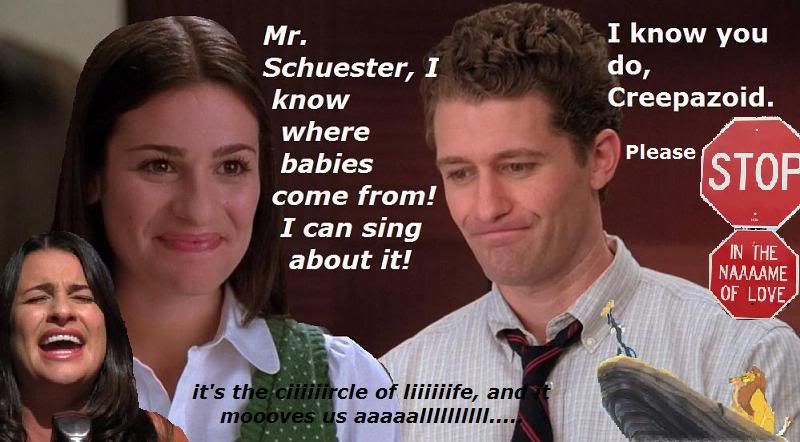 Afterwards, Will and Emma go to a football game where they cheer like maniacs for McKinley's SuperLoser football team! When the team scored a goal (or did a show-stopping dance) these two crazy kids were so excited they smashed into each other and hugged so hard that the whole audience almost got a live re-enactment of where babies actually come from!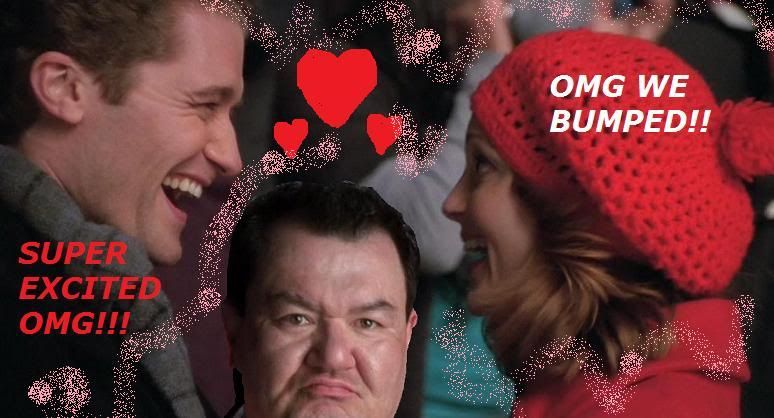 LOL ANGRY KIN. GRRRR.

Everyone is now totally confused about Finn and Quinn and babies, Jacuzzis and pillows. Especially Emma. This was not on the SAT Prep.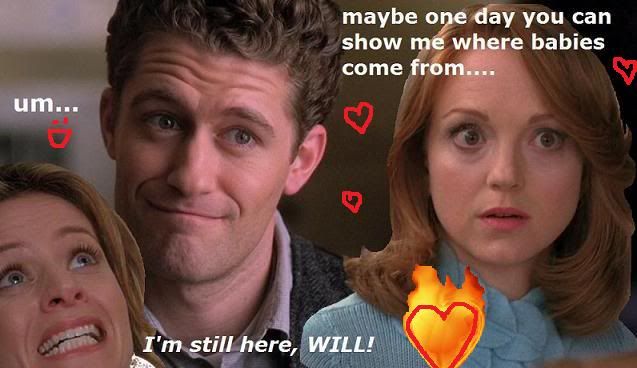 Here's a helpful reminder: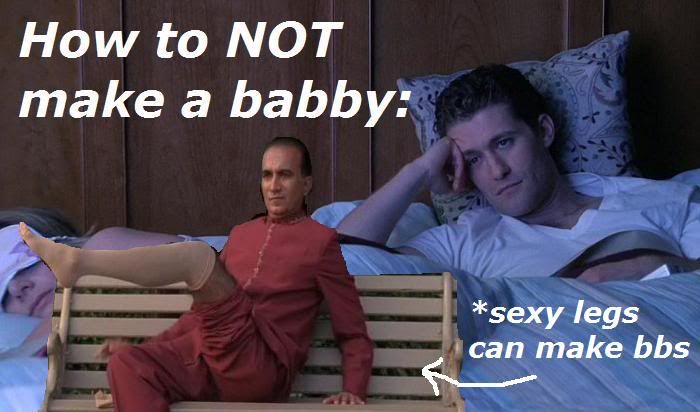 And as always, the Making Up Emma Report Card: (I thought I would use gold stars this time, on a scale of 1-3)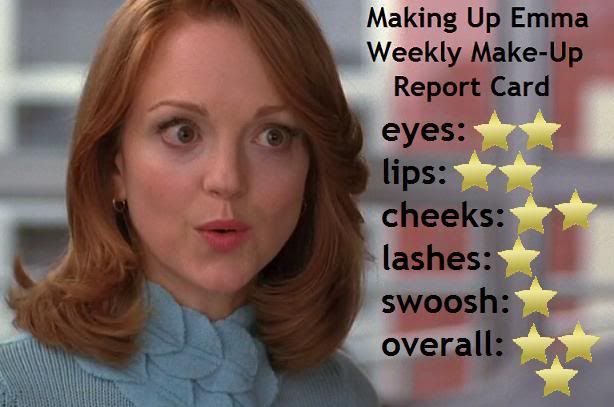 It was a good week for Emma, subtle and soft, though not a Wowza. A Wowza Week would be like if she wore her Mall Cop-era makeup. (HINT HINT, Glee people!)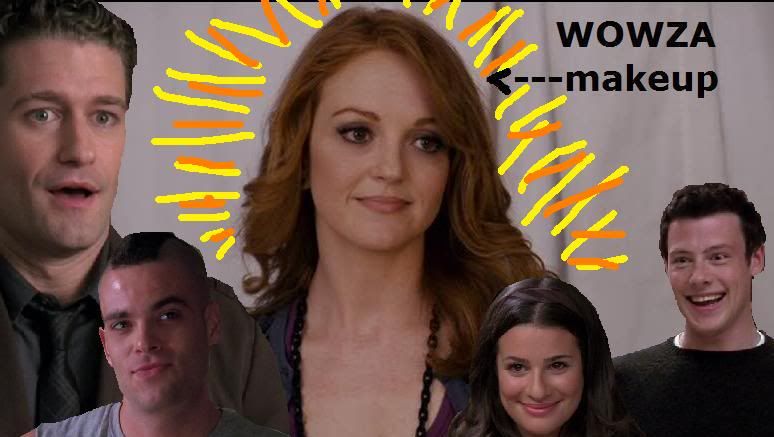 Wowza makeup will impress everyone, including Creepazoids, so it should be applied carefully. It's a look that will guarantee everyone saying
GET IT PILLSBURY.
What color do you think suits
Emma
best,
soft powdery blue
or
vibrant red
?